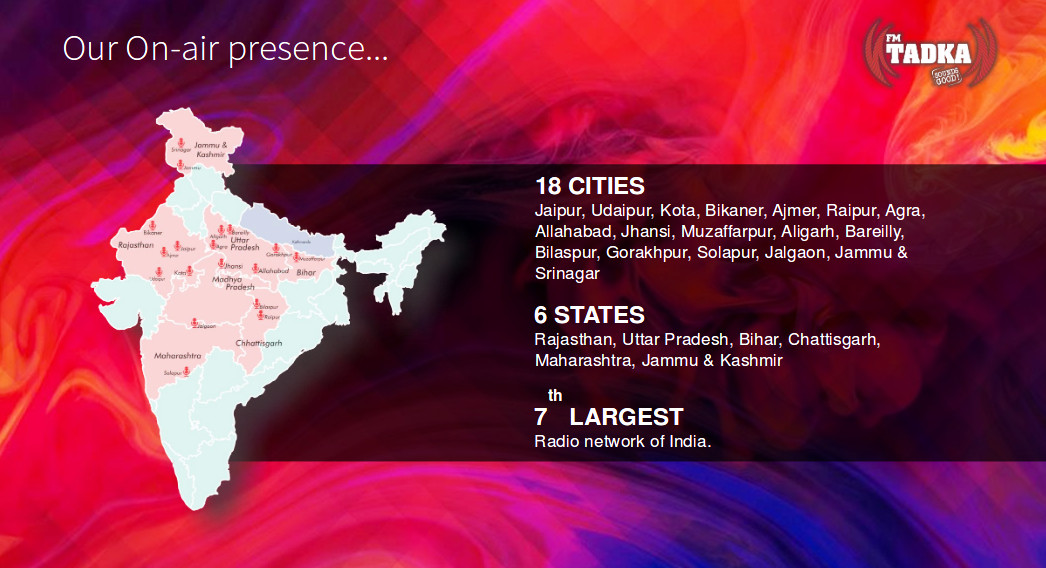 Patrika Group radio venture FM Tadka is currently the 7th largest radio network in India with 18 stations across 6 states. Tadka is currently aired from 18 cities which includes – Jaipur, Kota, Ajmer, Bikaner, Udaipur, Raipur, Bilaspur, Agra, Prayagraj, Bareilly, Jhansi, Gorakhpur, Jalgaon, Solapur, Muzaffarpur, Aligarh, Jammu and Srinagar. It has been the No.1 radio station in Jaipur survey after survey since 2008. A station that is known for its most happening programming and a perfect mix of latest, Classics, English, Club mixes, Pop and popular choice music enjoy maximum local connect with listeners. Tadka caters to masses and classes equally with superb music quality on radio sets and justifies its tag line "Sounds Good". FM Tadka has been enjoying the maximum local connect with listeners. 95 FM TADKA is present in following three important cities of Rajasthan as well as the Raipur, the capital of Chhattisgarh:
- JAIPUR launched on 15th aug.06
- UDAIPUR launched on 27th Aug,07
- KOTA launched on 25th feb.08
- RAIPUR (CHATTISGARH) launched on 1st March.09.
95 FM TADKA is rocking the airways of Rajasthan in three important cities. These cities are selected in a strategic way to cover the important zones of entire Rajasthan.
Hence these three stations also cover the upcountry areas of their surroundings which moreover caters to all important zones of Rajasthan.
USP's
Radio venture of the strongest media group of Rajasthan (Rajasthan Patrika), hence the benefit of print synergy which is un – parallel to any other radio station.
No.1 radio station according to IRS 2008,IRS Q2 2010,IRSQ3 2010,IRS 2010 Q4, IRS 2011 Q1, IRS 2011 Q2,Q3,Q4, IRS 2012,Q1,Q2,Q3,Q4
Maximum local connect through listeners through innovative programs.
Strong network in three important cities of Rajasthan i.e. JAIPUR, UDAIPUR & KOTA and upcountry areas.